Bioemtech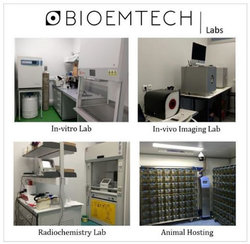 BIOEMTECH is a fast-growing Greek SME in the field of biomedical engineering, bridging the gap between ex vivo studies and in vivo molecular imaging by providing solutions in terms of instrumentation and services. The company designs and develops benchtop molecular imaging systems and provides imaging services and consultancy with emphasis in nuclear medicine technology.
BIOEMTECH provides additional expertise on software solutions in terms of a) executing Monte Carlo simulations at multiscale level and b) developing Artificial Intelligence algorithms for prediction models.
BIOEMTECH laboratories, provide preclinical services that cover a wide range of studies, from an in vitro level, to radiochemistry, animal hosting and multi-modal in vivo imaging using SPECT, PET, CT, X-ray and Optical systems. BIOEMTECH is now a multidisciplinary team of 14 young scientists with strong background in biomedical engineering, medical physics, bioinformatics, radiochemistry, biology and nanomedicine. The company was founded in 2013. In its short lifetime, BIOEMTECH participated in 8 H2020, 4 ERANET, 1 Cost Action and 4 NSRF research project. It has developed 2 commercial benchtop imaging products "γ-eye" & "β-eye", organises educational/training and dissemination activities (e.g. workshops), and is an official member of the OpenGATE, EARA and ETPN networks. In 2019 BIOEMTECH obtained a pre-seed investment by a Venture Capital scheme.


Principal Investigators:

Dr. Panagiotis Papadimitroulas is co-founder and Project Director of BIOEMTECH since 2013. He holds a PhD in Medical Physics. Dr. Papadimitroulas has extensive expertise in the evaluation and optimisation of clinical and preclinical dosimetry and imaging protocols, in MC simulations, image processing tools and advanced computational models. He authored 2 chapter books, 23 publications in peer-review journals and more than 60 announcements in international/national conferences. He has participated in several European and National research projects and currently he is directing the research projects in BIOEMTECH including 8 H2020, 4 ERANET, 1 COST-Action, 4 NSRF projects. Dr. Papadimitroulas is also leading the software team of BIOEMTECH, while he is coordinating the CHIST-ERA(2019) INFORM project on explainable Machine Learning. Since 2017 he is an official member of the OpenGATE collaboration and since 2019 he gained a Post-Doc Research Grant from the Greek State Scholarships Foundation (ΙΚΥ).

Dr. Antonis Skliris is a highly motivated Chemist/Biochemist with 10 years of research experience in academia and 3 years of scientific research and project management in the biotechnology sector. He holds a PhD in Chemistry and he had performed post-doctoral research in both Greece (BSRC "Alexander Fleming") and the USA (Tufts Medical Center, Boston). He is experienced in design and execution of experimental procedures, conducting cutting-edge research using up-to-date technologies. Able to analyze and deliver high quality data for answering complex biological/biochemical questions. Well versed in molecular and cell biology techniques and highly skilled in protein-protein and protein-RNA interactions, cell cultures and gene manipulations. He has an excellent understanding of RNA biology, cell signaling and extracellular matrix biology. As a cell manager in BIOEMTECH he is responsible for the development and the expansion of the in vitro services, provided by the company. In addition, he supports the in-vivo imaging applications and protocols by contacting a variety of in-vitro experiments, as cytotoxicity assays, cell labelling with different compounds, creation of oncology models and more complex pre-clinical and clinical assays.